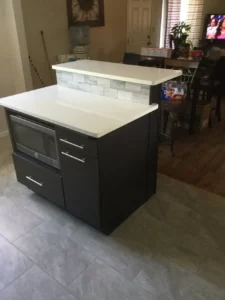 Welcome to Next Kitchens! We specialize in providing high-quality Lamesa kitchen granite countertops. Our team of experienced professionals is dedicated to creating custom-cut and expertly installed granite countertops that will elevate the look and feel of your home.
Whether you're looking for a sleek and modern design or a classic and timeless aesthetic, we have the expertise and skill to bring your vision to life. With our wide range of colors and patterns to choose from, you're sure to find the perfect kitchen granite countertops in Lamesa TX to suit your style and budget.
ELEVATE YOUR KITCHEN WITH THE TIMELESS BEAUTY OF GRANITE
Granite countertops come in a wide variety of colors, patterns, and textures. This allows homeowners to choose a look that complements their personal style and existing kitchen decor. Some popular colors for granite countertops include black, white, gray, and beige. The patterns and textures vary from piece to piece, giving each Lamesa kitchen granite countertops a unique look.
Why granite, you ask?
Durable
Resistant to heat, scratches, and stains
Easy to clean and maintain
Gives a unique look
Adds value to your home
UNBEATABLE QUALITY AND SERVICE FOR YOUR GRANITE COUNTERTOP
Our team of professionals has extensive experience in installing Lamesa kitchen granite countertops. We will work with you to help you select the perfect color and pattern for your kitchen, and will ensure that your new countertops are expertly installed to last for years to come.
We also provide repair and maintenance service for your kitchen granite countertops in Lamesa TX. It is normal for natural stone to have slight variations in color, pattern, or texture. Our team will take great care in ensuring that your countertop is properly sealed to protect against staining and discoloration.
EXPERIENCE LUXURY OF GRANITE WITH OUR TOP NOTCH SERVICES
Granite countertops are an excellent choice for homeowners looking for durable, beautiful, and versatile kitchen countertops. With our team of experts, you can be sure that your new kitchen granite countertops in Lamesa TX will be installed correctly and will last for years to come. Contact us today to schedule a consultation and see how granite countertops can enhance the look and value of your kitchen.