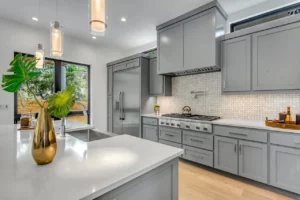 Kitchen remodel is a significant investment. That's why we, at Next Kitchens, strive to merge style with functionality in all of our custom cabinetry. Our team of experienced designers and craftsmen work closely with you to create a space that not only looks beautiful but also functions perfectly for your needs. This makes us one of the leading Levelland kitchen cabinet companies in the industry.
Our custom cabinetry is designed and built to your exact specifications. From traditional to modern, our designers have the expertise to create a kitchen that reflects your personal style.
OUR EFFICIENT METHOD ENSURES MAXIMUM BENEFITS AT EVERY STAGE
The best Levelland kitchen cabinet companies are dedicated to helping you create the kitchen of your dreams. And that is our mission. With our wide range of practical accessories, we can help you design a space that is both beautiful and functional. From the initial consultation to the final installation, we keep you informed and involved all throughout the process.
We pride ourselves on being one of the most trusted kitchen cabinet companies in Levelland TX because of our attention to detail and our commitment to customer satisfaction. Our team of skilled craftsmen take great care in their work, ensuring that every aspect of your new kitchen is of the highest quality.
WE ARE DEDICATED TO HELPING YOUR CREATE THE KITCHEN OF YOUR DREAMS
At Next Kitchens, we understand the importance of both function and style in your new kitchen. That's why we offer a wide range of practical accessories to help spruce up the design of your new space. We are one of the top Levelland kitchen cabinet companies for the following reasons.
Tailored lighting designs to suit your specific needs.
A variety of backsplash options.
Wide selection of floor tiles in a range of materials and colors.
Handy storage that suits your needs.
Integrated accessibility features to make your kitchen more user-friendly.
Highly aesthetic solutions for your kitchen remodel.
TRANSFORM YOUR KITCHEN WITH OUR CABINET CRAFTSMANSHIP
Being one of the premier kitchen cabinet companies in Levelland TX, we make sure that our experienced designers and skilled craftsmen have the knowledge and expertise to guide you through the entire remodel process, from initial design concepts to the final reveal of your brand new kitchen. We offer a wide range of services such as custom cabinetry, countertops, backsplashes, flooring, and more.
Let us help you make your dream kitchen a reality. Contact us today to schedule your free consultation!