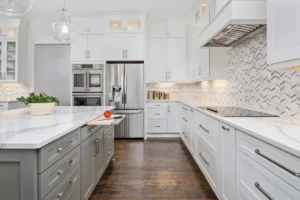 At Next Kitchens, we understand that remodeling can be a stressful process. That's why we make it our priority to keep the process as smooth and efficient as possible. We will work closely with you every step of the way to ensure that the remodel is completed on time and within budget. This is what makes us one of the most trusted Levelland kitchen remodeling companies in Texas.
TRANSFORM YOUR KITCHEN WITH OUR 3D RENDERING EXPERTISE
3D rendering is a powerful tool that can help homeowners and Levelland kitchen remodeling companies envision the final result of a kitchen remodel before any construction takes place. At Next Kitchens, we offer high-quality 3D rendering services to help our clients visualize their new kitchen spaces.
Our 3D rendering process begins with a consultation to understand the client's design preferences and functional needs for their new kitchen.
We then use advanced software to create detailed and realistic 3D models of the space, including all cabinetry, countertops, lighting, and other elements.
Kitchen remodeling companies in Levelland TX use 3D renderings to get a highly detailed and accurate picture of the design. This allows clients to see their new kitchen from every angle and make any necessary changes before construction begins. This can help to save time and money by identifying and addressing any potential issues before they become a problem.
OUR KITCHEN REMODEL PROCESS EXPLAINED
Next Kitchens, one of the best Kitchen remodeling companies in Levelland TX, understands that renovating your kitchen can be a daunting task. That's why we make the process as seamless and stress-free as possible for our clients.
Schedule a consultation with you to discuss your vision for the new kitchen. We take into account your desired aesthetic, functional needs, and budget.
Provide a detailed proposal. This includes a 3D design of your new kitchen, and work with you to make any necessary adjustments.
We handle all of the necessary permits and schedule the work to begin. Our team of experienced contractors and tradespeople work diligently to complete the remodel on the allotted time.
We pride ourselves on our attention to detail. This makes us one of the top Levelland kitchen remodeling companies in the region. Moreso, we are committed to utilizing only the finest and most superior materials. We will keep you informed throughout the process and address any concerns you may have promptly.