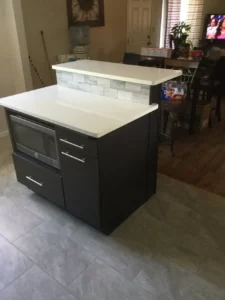 Next Kitchens is dedicated to helping homeowners transform their kitchen spaces into the functional and stylish areas they've always dreamed of. In addition to our Lubbock kitchen granite countertops services, we also offer repair and maintenance services to help keep your countertops looking their best. Our team is equipped to handle any repairs or maintenance needed, from minor chips and scratches to more extensive damage.
RESIDENTIAL AND COMMERCIAL GRANITE COUNTERTOP SERVICES
For residential properties, we offer a wide variety of granite options to choose from, including a range of colors and patterns. Our team will work closely with you to understand your specific needs and preferences, and will help you select the perfect Lubbock kitchen granite countertops for your home. Once you've selected your granite, our team will expertly measure, cut, and install your new countertops, ensuring a perfect fit and finish.
For commercial properties, we understand the importance of durability and functionality in a busy work environment. We offer a range of durable, high-quality granite options that are well-suited for commercial use. Our team will help you select the perfect kitchen granite countertops in Seminole TX for your business, and will expertly install your new countertops to ensure they meet the demands of your work environment.
DISCOVER YOUR KITCHEN'S FULL POTENTIAL
Your kitchen is the heart of your home, and it should be a space that you love to spend time in. Whether you're a gourmet cook or a casual baker, we can help you get the best Lubbock kitchen granite countertops that are tailored to your specific needs and preferences.
At our company, we understand the importance of having a functional and stylish kitchen. That's why we offer a wide range of countertop options to fit any taste and budget.
When you choose to work with us, you'll get more than just a beautiful kitchen granite countertops in Seminole TX. You'll get a practical new feature that will make your kitchen more functional and efficient.

At Next Kitchens, we understand that every homeowner has different needs and preferences when it comes to their Lubbock kitchen granite countertops. Whether you need more space, a larger island, or a countertop, we'll work with you to design and build a kitchen that works for you and your family.