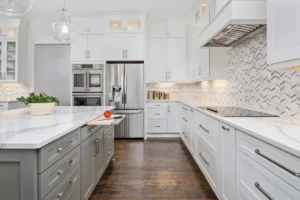 Next Kitchens, one of the premier Plainview kitchen remodeling companies, is dedicated to providing top-of-the-line kitchen remodeling services to homeowners like you who want to transform their homes and make them more functional and beautiful.
EXPERIENCE THE DIFFERENCE OF A PROFESSIONAL KITCHEN REMODEL
Our experienced and professional kitchen remodelers will follow your concept to design a kitchen that is exactly what you need. This is why we are among the top Plainview kitchen remodeling companies in the city.
At Next Kitchens, we understand that your kitchen is one of the most important rooms in your home. The leading kitchen remodeling companies in Plainview TX only use the highest-quality materials and the latest techniques to ensure that your kitchen remodel is built to last. We'll work with you every step of the way, with the main goal in mind that your new kitchen is everything you want it to be.
Countertops, Cabinets, and Beyond
Our kitchen remodel services include everything from countertops and cabinets to floors and lighting. Being one of the most sought-after kitchen remodeling companies in Plainview TX, we offer a wide range of materials and styles to choose from, so you can be sure that we'll have something that meets your needs and budget. Whether you're looking for granite countertops, custom cabinetry, or a new flooring, we've got you covered.
Kitchen design and layout consultation
Custom cabinetry and countertop installation
Appliance selection and installation
Lighting and electrical upgrades
Flooring replacement
Backsplash and wall tile installation
Painting and finish work
Plumbing fixtures and sink installation
Project management and coordination with subcontractors
Permits and inspections as needed
KITCHEN REMODEL MADE EASY WITH OUR TEAM OF EXPERTS
We believe that the key to a successful kitchen remodel is communication and collaboration. This is the reason why we are named as one of the top kitchen remodeling companies in Plainview TX. We'll work closely with you to understand your vision for your new kitchen and make it a reality. We'll provide expert guidance and advice throughout the process, and we'll make sure that you're completely satisfied with the final result.
Next Kitchens, one of the best Plainview kitchen remodeling companies in the industry, are committed to providing the best kitchen remodel services to homeowners. Contact us today to schedule your consultation and let's start building your dream kitchen together.